The Outer Banks Visitors Bureau has published a new blog post promoting our community attractions, to help fall visitors visualize how they can enhance their vacations during the current climate of social safety by stopping in at any of our historic hotspots. We wanted to share this fun information with you all for ideas on what to do on your next Outer Banks vacation! 
This Blog Post was written by Aaron Tuell of The Outer Banks Visitors Bureau. You can read the blog post on their website here: 
https://www.outerbanks.org/blog/post/the-attractions-of-island-life/
You made it here! Congratulations, you're about to have an amazing time on the Outer Banks. Whether you had beaches on the brain, or stuffing down some fresh seafood, once you get your bearings we'd like to point you to some fun places to visit that'll enhance your stay exponentially. The candles on your cake, the seasoning on your steak, our local historic and cultural attractions will spice up your vacation and give everyone in your crew that special something to do.
North Carolina is currently under Phase 3 reopening rules and regulations which are the closest return to normal we've had since the start of COVID-19 safety measures this spring. Below we highlight some favorite things to do at each attraction, grouped by island. Extra safety measures have been put into place at each location and that can be reviewed on their respective websites and listings within this site.
Roanoke Island
Island Farm
If you want to take a breather from the beach and trade the sand under your feet for fresh grass, we recommend taking your troupe to Island Farm, a living history farm with roots set down in the 1800's. Your hosts can give you a lesson in history and hard work as they practice the daily activities of running a family homestead on the Outer Banks of old. There's oxen, sheep and chickens to enjoy among the reconstructed buildings, working garden and a home to tour with all the furniture and décor of the period. Depending on the day and time of your visit, you might see staff press apples into cider or bake on the hearth.
Tip: Tuesdays and Thursdays, visitors can get up close to two wild ponies from the Outer Banks herd that now live on Roanoke Island, and on Wednesday, kids get to work with the Manteo blacksmith to hammer on the anvil and shape a little keepsake from their visit.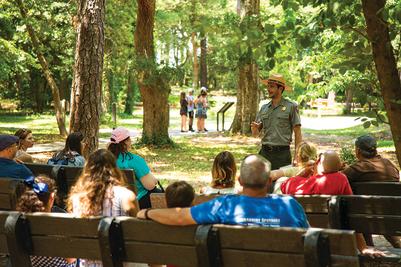 Fort Raleigh National Historic Site
Roanoke Island has been at the intersection of history since the English discovered it in 1584 and tried to stake their first claim in America here with two successive visits; the first was an outpost of men and soldiers in 1585 followed by a colony of families in 1587. Their complicated relationship with the native Algonkian Indians and eventual demise has been detailed in The Lost Colony Outdoor Drama. What's lesser known is the island's brief history as one of the first Freedmen's Colonies set up by the Federal government during the Civil War, to provide a safe haven for runaway slaves and African American's freed from bondage by military action. Another chapter in American history you can explore at the Lindsay Warren Visitor Center is that of Reginald Fessenden, one of the pioneers of radio and wireless communication who worked on his experiments not far from here.
Tip: This is a great location to park the car and enjoy strolls under the loblolly pines and coastal oaks of Roanoke Island's forested north end. There are sidewalks that lead to and away from the visitor center but for a little more off-the-beaten path discovery, take the Thomas Harriot woods trail that loops for about a third-mile and opens up onto a secluded sandy beach on the Roanoke Sound.
Elizabethan Gardens
The ultimate shady spot to cool your heels and shift into slow gear, this ten and a half acre orchestra of aromas is home to hundreds of types of flowers, herbs and shrubs. Something is always in bloom and in season to enjoy as you wind your way among Italian Renaissance statues that are centuries old, dozens of species of camelias and ancient live oaks. Be on the lookout for a statue of Virginia Dare, the first English child born in America on August 18, 1587. The marble likeness has survived a shipwreck, a building fire and onetime censorship before finding its way home. For kids, there's a special play area outside of Discovery Cottage and the Butterfly House, and with lots of trails and a Great Lawn to discover, the Elizabethan Gardens is a wonderful spot to decompress and relax.
Tip: One of the oak trees is believed to have been just a seedling when Sir Walter Raleigh's colony set foot in America well over four centuries ago. See if you can find it.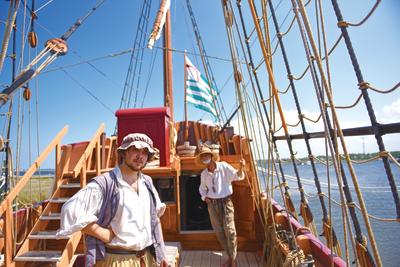 Roanoke Island Festival Park
The colorful sights and sounds of a new colony coming to life lay just across the Manteo town waterfront and marina. Stroll across the flag lined bridge to Roanoke Island Festival Park for a trip back four centuries into the past. You can see how the first English colonists from 1585 would have constructed their homes, worked iron at the blacksmith's shop and shaped wood at the lathe. You can also stroll through a representative Algonkian native camp and learn about life before Europeans arrived. Explore above deck on Elizabeth II, a representation 16th century sailing vessel like one Sir Walter Raleigh's colonists would have navigated across the Atlantic Ocean. Come indoors to explore the Roanoke Adventure Museum with your family. Kids can practice hauling cargo with rope pulleys or pose in colonists clothes for pictures as your crew learns about life on the OBX across the decades.
Tip: Enjoy nature at the edge of a salt marsh on the outskirts of the park, accessible from the parking lot. A raised wooden plank path takes you past the canal and wetlands that surround the small islet that the park calls home. It's a good spot to spy baby crabs, minnows and shrimp in the shallows. There's even a kayak access.
Roanoke Marshes Lighthouse
Lighthouse lovers will revel over the Roanoke Marshes Lighthouse on the Manteo waterfront.  This replica of the 1877 screwpile lighthouse bearing the same name is a classic example of the beacons that once dotted North Carolina's inland channels and rivers into the mid-1900's.  This lighthouse does not flash, but rather emits a constant steady beam through a real Fresnel lens.  Nearby, visit the Washington Creef Boathouse, and learn about early commercial fishing techniques and boatbuilding.  See the Ella View historic shad boat, a beautiful example of North Carolina's state watercraft.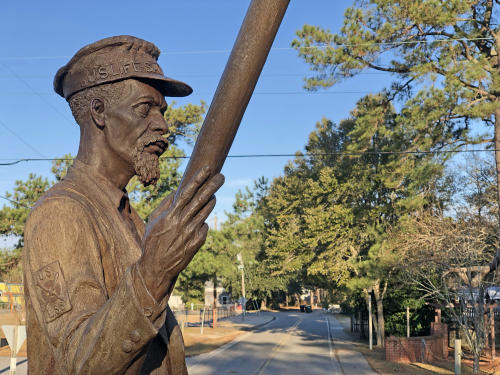 Pea Island Cookhouse Museum at Collins Park
Remember how we talked about the Freedman's Colony being established near Fort Raleigh as one of the early communities set up for escaped former slaves during the Civil War? After the war as newly emancipated and free African American families began looking for work and establishing a new home on the Outer Banks, several Black men from the island joined the US Life-Saving Service which we would know today as the US Coast Guard. Back in the late 1870's, the nation's only all-Black station entered the American story with a legacy of heroism and acts of bravery to save sailors and passengers from shipwrecks and torpedoed Allied vessels through two World Wars. The original station is long gone except for the cookhouse where the men broke bread and fed survivors. It has been restored and relocated from its original location to Manteo, where many descendents of these Life-Savers still live today. You can see a statue of Richard Etheridge in the central turnabout of Collins Park, a man born a slave at the homestead known today as Island Farm, who would go on to fight for the Union as a Buffaloe Soldier before returning home to captain the Pea Island station. The cookhouse has special programming which you may inquire about with the town of Manteo. You can also see the wooden rescue vessel these heroes put to work under the on-site boat shed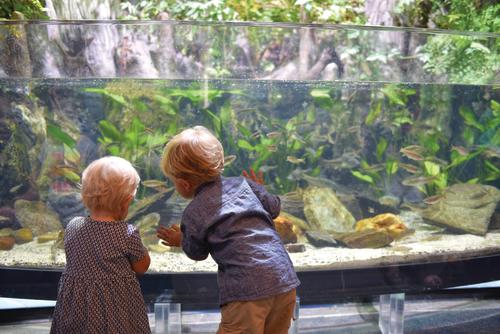 North Carolina Aquarium on Roanoke Island
Everyone's favorite aquarium is back open! They're limiting the number of visitors inside each day, so you've got to go online to their website and book your specific time. Where do we begin with all the fun you can have indoors and out. Watch native river otters frolic and ham it up, get up close to a giant snapping turtle tank and even a white alligator. Your little ones will love to use their imagination inside the pretend turtle hospital where computer screens talk to them as they diagnose and heal rubber sea turtles before setting them free. The sting ray touch tank is always fun, whether you just watch them swim through the glass or get up close and personal. The sand tiger sharks are always watching you through the glass of the massive Graveyard of the Atlantic tank.
Tip: There's a real working sea turtle rehabilitation center exhibit inside, where you can ask questions and learn about common ailments among different species of turtles that frequent the Outer Banks. It's so neat to see the different species up close. For an otherworldly experience, be sure to pop into the jellyfish room with eerie lighting and ghostly jellies.
Hatteras Island
Chicamacomico Life-Saving Station
Veterans and fans of military history will enjoy this place. That's a mouthful of a name, right? This is one of the few sites left in America dedicated to the US Life-Saving Service which ultimately became the US Coast Guard. Before big orange and white helicopters and wave splitting ships raced to the rescue of distressed ships at sea, the lifesavers of the 1870's through the early 1900's relied on their courage and grit to battle the elements with little more than wooden boats and oars. Call ahead for times of the live demonstrations of what was known as the breeches buoy device that was fired from a cannon onto a doomed vessel in order to get passengers off alive. There are original buildings from two periods of construction, from 1874 and 1908, and even a period home depicting family life during this time with antique furnishings that'll send you back down memory lane.
Tip: Surfboat 1046 sheltered onsite was involved in one of the most awarded and documented rescues at sea involving the lifesavers, where the men of Chicamacomico rowed out into a fuel fire on the ocean's surface to rescue the crew of a torpedoed tanker during World War I in 1918. It's been beautifully restored.
The Graveyard of the Atlantic Museum
So named for the thousands of shipwrecks that have been claimed by weather and war along these islands. Inside the museum, the maritime history and culture of the Outer Banks is center stage. You can hear about the days of piracy along the OBX during the 1700's, including America's most notorious scallywag to ever pillage the high seas. Aye, that be Blackbeard himself who once made this area his favorite home away from home. See how recreational charter fishing got its start on this very coast, entertaining travelers from across the East Coast who wanted to battle big billfish such as marlin and sailfish out on the Gulf Stream. The village of Hatteras is one of those communities where generations of men and women bring fresh seafood up from the depths of the ocean and shallows of the sound to you. Think about that when enjoying a plate of big shrimp or sushi tuna. The original Cape Hatteras lens greets you in the lobby in conservation along with some artifacts from German submarines that once terrorized the North Carolina coast.
Tip: In the parking lot you'll notice a large marker dedicated to the Hotel de Afrique, one of the first safe refuges for runaway slaves in the south during the American Civil War which was once not far from the present-day museum. Did you know the first Union military victory of the conflict happened at Fort Hatteras in August of 1861?
Northern Beaches
Wright Brothers National Memorial
North Carolina license plates say First in Flight. That's because Wilbur and Orville Wright, who were from Ohio, solved the engineering problem of manned, controlled flight near Kitty Hawk, NC over the course of four years visiting the Outer Banks, from 1900-1903. This was there secret lab and proving grounds.  The first thing you'll notice is a 90-foot grassy hill, with a 60-foot granite monument on the top of it. That hill is really a giant sand dune that used to look like Jockey's Ridge, but was grassed over when they built the monument dedicated to the first powered flight on December 17, 1903. The first flight lasted only 12 seconds and went 120 feet. A child can run faster than that, and they do, along that flight line you can see at the park. The view from atop "Big Kill Devil Hill" is breathtaking. Inside the visitors center, see a priceless replica of their flying machine along with artifacts from their workshop.
Tip: On the back side of the park, be sure to visit the life-size outdoor statue of the Wright's Flyer and the men of the US Life-Saving Service who often helped out when the brothers flew kites, gliders and the plane, lugging equipment around the dunes. It's one of our favorite photo-ops for social media.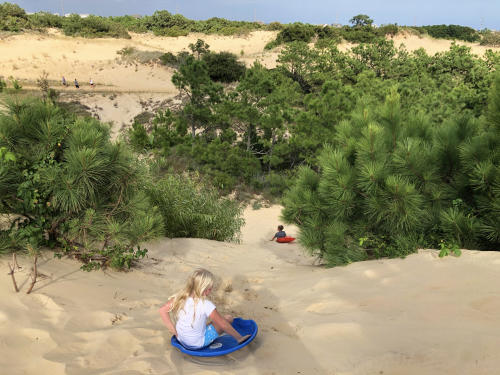 Jockey's Ridge State Park
This geologic wonder of nature is the largest sand dune on the East Coast. If there's a place to let your hair down and act like a kid, this is it. Let your kiddos release all that pent up excitement about vacation with a run up and down the dunes, rolling and laughing the whole way. The big mountains of sand are appealing all by themselves, and for the more adventurous who'd like to peel away and explore deeper, there are two self-guided trails that wind through the 426-acre park. A number of animals make their home here, from the elusive red fox and raccoons to lizards, toads and the like. If you're looking for a thrill, there's a hang gliding school on site with lessons running all day, no experience necessary. At dusk, it's a prime spot to watch the sun set over the Roanoke Sound with all the pops of color this time of year provides. For those in your group with mobility issues, call ahead and request one of the park rangers to take you to the top of the big dunes in one of their ATV's for a rewarding experience. It's easy to have a picnic at the park with numerous benches under the trees.
Tip: Pick up a plastic snow sled, boogie board or just about anything with a smooth bottom and try sand boarding down one of the dune faces. They tend to work best with a decent incline and firm sand.
We look forward to seeing you at Koru Village on your next Outer Banks Vacation!